On Saturday 9 March, we held an event in Brighton as part of International Women's Day celebrations and the Spring Forward Festival organised by the brilliant 'She Says', a global creative network for women.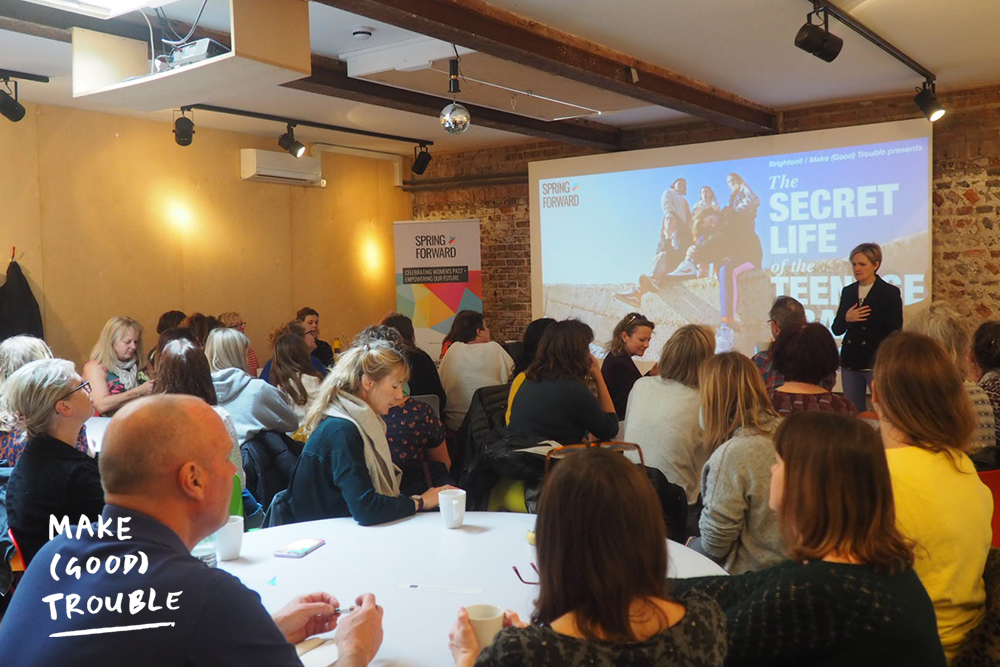 Daisy Cresswell, founder of Make (Good) Trouble spoke about the teenage brain from a neurological perspective and how understanding the biology of the teenage brain helps to make sense of their behaviour. David Ellis from data and analytics company, Station 10, who talked about algorithms and how they can be used for good…
We ended with a panel discussion with teens, parents and teachers from Hove Park, Patcham High and Cardinal Newman schools, discussing hormones, social media and teens being listened to.
Here's a round up of the morning…
Speaker, Daisy Cresswell, Make (Good) Trouble
Daisy discussed the teenage brain and how it affects behaviour during the adolescent years, particularly in terms of risk-taking and hypersensitivity, and a reduction in the ability to make decisions and plan ahead. Daisy's own school report for PE from 1984 was an eye-opener, showing just how the teen brain manifests itself. It seems to be describing two totally different people with words and phrases like "studious", "attentive" and "a pleasure to teach" juxtaposed with "objectionable", "inattentive" and "disruptive".
Daisy went on to look at the similarities and differences between today's teens and those of their parents' generation. Frightening headlines about social media and device dependency are a huge concern for parents. She pointed to media headlines that demonise teens ("louts", "hoodies") and accuse today's parents of raising a generation of "snowflake" kids who rely on others to sort things out for them.
But is it really any different from before?
Instagram is awash with photoshopped images of unattainable bodies – the same as the magazines we used to buy back in the 1980s and 90s were. Yesterday's diaries have been replaced with vlogs, as a place for teens to share their problems.
But today's tech means it's all out there online and much harder to ignore or walk away from. It's always on. So should parents be worried? Should we confiscate devices to limit their access to questionable content? Switch off the wifi? Rosie Scott, from Hove Park School, says that teens have a different relationship with technology to their parents' generation and that we need to think about and better understand how today's children engage with technology.
Real life
"Adults tend to draw quite a distinct line between the real world and the online world and that line doesn't exist to young people. The online world is the real world. It's where they socialise. It's where they figure out who they are. It's where they show others who they are. So even if you speak to young people who've had quite negative experiences on social media – whatever that looks like – they're still very enamoured with it, and reticent to say, 'no, this is a negative force in my life'. Because to them it is a positive thing."
Rosie Scott, Hove Park School, talking on 'Parenting Teens' – Make (Good) Trouble's BBC Sussex Radio feature.
So whilst there are concerns about social media and technology, Daisy pointed out the positive. She gave an example of how teens are using the app DePop (a place to buy and sell clothes online), to learn about marketing and commerce.
Another example is the brilliant #iweigh campaign started by Jamilia Jamil which has fostered a positive approach to young people's sense of self worth – an antidote to being judged by your weight and looks.
We set up Make (Good) Trouble CIC to help teens to give teens a voice – to foster a resilient approach to whatever life throws their way, and to help parents, carers and teachers to better understand their teens.
Speaker: David Ellis, Station 10
David Ellis is the founder of Station 10, a data and analytics company that helps companies make the most of their customer data.
David discussed what an algorithm is – in essence it's "just spotting patterns". David gave examples of how they work (i.e. Amazon's recommendation engine – "Customers who bought this item also bought…") and personalisation such as seeing information or adverts related to your previous browsing history.
This is all well and good, but the darker side of algorithms are when they serve up distressing content to children for example, offering those who have searched for information on self-harm more self-harm related content, whatever it's provenance. (There's a really interesting article in Wired Magazine that discusses these issues in relation to mental health: When algorithms think you want to die.) David has since written a blog postabout this issue.
But what David is really interested in is how we can use algorithms for good: how a system could be designed that would predict troubling behaviour and direct people to the right kind of content that would really help them. He gave examples of positive uses of technology such as artificial intelligence applications being built today that can help predict, detect and treat illnesses and that can design personalised treatments for patients.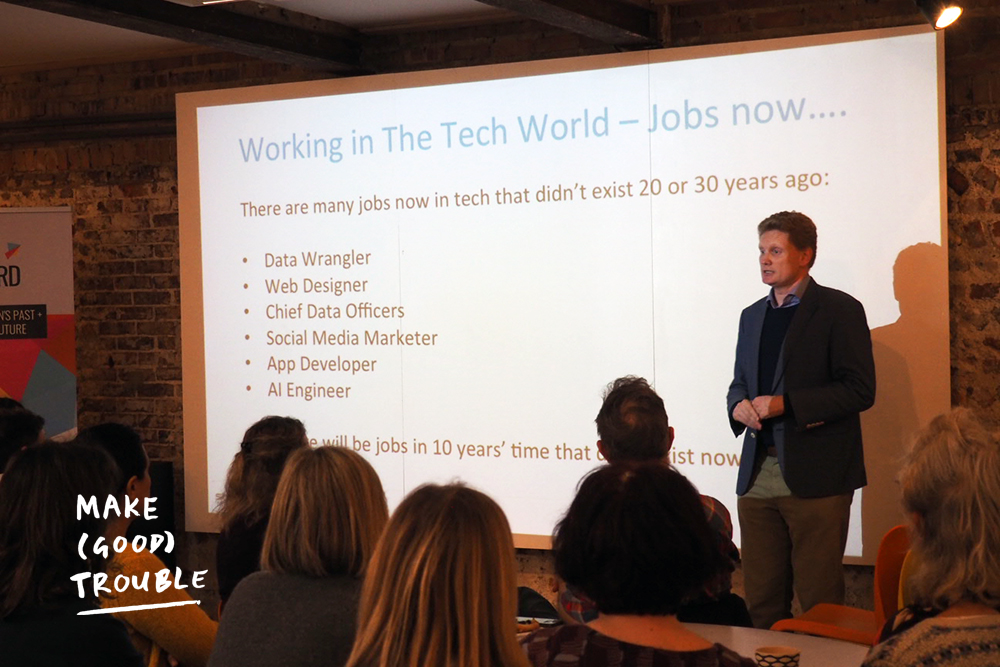 David would love to see more young people choosing a career in technology, to help build the next generation of positive apps and data services. He pointed out that many of today's tech jobs didn't exist 20-30 years ago – jobs like Data Wrangler (!), Chief Data Officers, Social Media Marketer, App Developer… Which means that many of the jobs that will exist in 10 years' time, don't exist now. It's time to think big!
Panel discussion
Our panel discussion included three teens and three teachers from Hove Park, Patcham High and Cardinal Newman schools. The teenagers felt that during their teenage years, they are trying to discover who they are and who they want to be. They felt that their views are often dismissed as coming from "moody teenagers" but that their opinions should be listened to.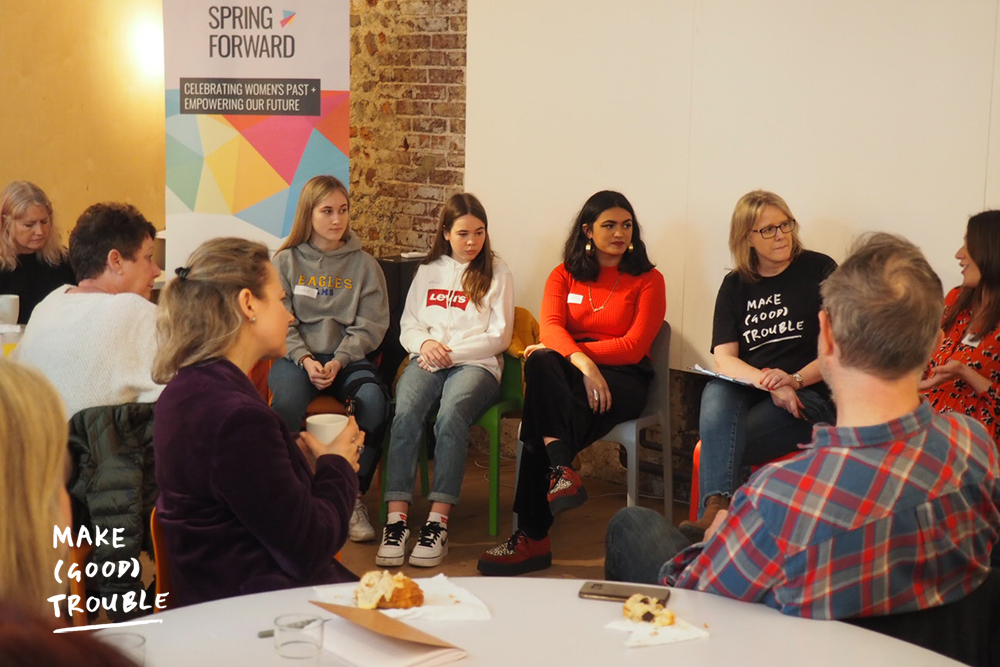 Hormonal changes were seen as the main culprit when it comes to fostering a divide between parents and teenagers. Rosie Scott, Art therapist and lead for teen Mental Health Ambassadors at Hove Park Schoolcommented: "There's a lot of emotional intensity that goes along with being an adolescent and there's not such a mastery of permanence. So how they're feeling in that moment is very intense, very real and how they might feel very quickly afterwards is very different and there's almost no kind of gentle pulling apart from those feelings. It's all from one to the other, and for parents or teachers that's quite difficult to deal with"
When it comes to social media, parents expressed huge concern about device addition and peer pressure when it came to things like body image and "sexting". "NoMo" phobia was discussed – that's the fear of being separated from your mobile phone – an affliction that's not confined to teenagers! One teen remarked: "It's like losing a limb if it's suddenly taken away. How do you keep going if you're used to existing with your phone?" If you're used to organising your life that way? One teacher remarked that nine times out of ten, when a child is texted in class, it's a parent contacting them. Our panel agreed that earlier training was needed when it comes to social media use. "We do potty training with our kids, why do we not do the same when it comes to devices?"
My real take-away from this fascinating panel discussion is that there's a negotiation and trust that needs to be built with our teens. Their hormones may be raging at times, but this process is what makes them the fascinating, sometimes infuriating, amazing people that they are. Their voices deserve to be heard.
Find out more about: