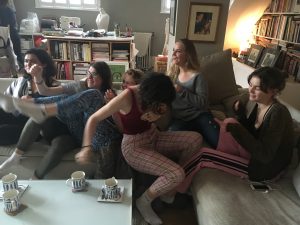 Welcome to Brighton5. Today we launch this blog, and on March 8th 2018, International Women's Day, we will launch our crowd-funder video for Brighton5. There is nothing like a deadline to make things happen (hence the countdown clock at the top of this website!), even though I feel terrified at the time of writing. What could possibly go wrong? (Never work with kids and animals? Oh dear!).
I am a mum of two teenage girls. I'm also the co-founder – along with my sister Tayler, of a small social media agency, Liberty842, that works for clients in the Media and Entertainments sector. Think BBC One's Holby City and Channel 4's The Last Leg.
As a result of the UK voting to leave the EU and Donald Trump becoming the President of the United States and the political and economic ramifications, I became increasingly concerned about my children's future.
The gender pay gap (finally) became front page news, highlighted by the BBC having to publish staff salaries, and more and more stats were being released about how social media was negatively affecting teenagers. My teens are 'digitally dependent' – and my youngest was becoming increasingly distant. Skip to International Women's Day, 2017, and I had a WTF? moment.
I thought: I work in social media. I have two teenage girls. If I can't do something about this, who can?
I was a trouble-maker when I was a kid. Teenagers have an enormous amount of energy and adults have an enormous amount of experience, but technology seems to have driven a gap between teens and adults. So I wondered how we could bring that energy and experience together – and importantly use tech as a vehicle for positive change.
Teenagers don't care about the future. Their brains aren't developed that way. My teens are still full of energy. But how soon will our kids start to feel beaten down by the system?
My eldest daughter (17) is already starting to worry about affording a house and finding the right job in an increasingly automated world – Amazon Go is just the beginning. Why are we teaching them to worry at all? And what do today's value systems mean to future generations? Not very much?
We want to make (good) trouble – to create a movement that aims to shake things up. Brighton5 is about MAKING things; like getting teens up and out whilst being mentored by experienced adults. It's about building bridges between generations, using tech for good purpose.
It has been said, if there are seven forms of wealth, why do we only chase one? We aim to create a cooperative so that everyone involved gains from their hard work. We live in a world where wealth is concentrated in the hands of the few and the so-called "trickle down" to the rest of society just isn't happening. One percent of the world's richest people own half of the world's wealth – and that number has increased in the past 10 years. We want to create a new kind of economy – one with a moral compass with productivity at its heart. Watch this space. Brighton5 is coming. And we're going to make (good) trouble.