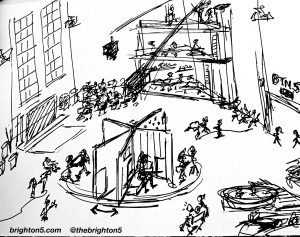 This week is full, once again. No zero days. By full, I mean thinking time and collaboration time. The world of Brighton5 is evolving rapidly- alongside some amazing local collaborators. And my time is taken up thinking, mapping, scheming and dreaming with these wonderful people.
Some question how I will be able to make a telly programme that is entertaining enough to keep teens and adults watching, when covering difficult issues like self harm or peer pressure. Sure we can pull on heart strings, but actually I have a theory that if we give our kids enough playtime, an amazing physical space and the tools to create and craft, some mad and wonderful things will happen. Couple that with some brilliant direction, animation and editing, and I know we can create magic.
For years I worked in brand experience, creating emotionally-driven physical spaces whose sole ambition was quite simply to make our audience gasp…"Ooooh! Ahhhhh!" (these two words were once our only brief from Imagination founder Gary Withers!)
Netflix have placed documentary storytelling in a new league… think Making a Murderer, The Keepers, Strong Island… whether a Netflix original or not – they are placing these astonishing bodies of work directly into our homes. Entertaining? they certainly are.
Tonight I listened to Sally Wainwright's interview on the BBC writers room podcast where she says on the subject of authenticity… "the truth is more interesting than any old shit I can make up" (don't you just love her!)
So we will have have truths, but we will also have dramatic well thought-out storytelling, which will multiply and layer through social media, because that's where our teens live.
One thing I do know is I won't be chasing ratings.