How was women's mental health affected during and after the First World War?
1 An Introduction to Project Poppy
2 Mental health then and now
3 Women's stories in WW1
4 Letters home
To set the scene…
In 1900
1,740,800 women were domestic servants
124,000 were teachers (mostly in nurseries and junior schools)
68,000 were nurses
212 were doctors (it was only recently possible to qualify as a doctor if you were a woman – and women only treated women & children)
2 were architects
Before the war, only 24% of women were in paid employment. Most were expected to be managing the home and raising children. Marriage usually meant a woman had to leave her job.
Women in employment would be earning about half of what men did. Female teachers earned 80% less than male teachers.
Before the war, many women were seen as more delicate members of society – needing to be looked after.
Women had fewer rights than men – they were essentially treated like a child needing to be looked after. They couldn't vote, they couldn't open their own bank account.
Pretty much everything they owned before marriage became the property of their husband on marriage. They weren't just giving up their name! Although this was starting to change…
Laws assumed a man (their father or husband) would look after and take responsibility for them.
Once war broke out, women were called on to take up not only the positions left by the men who enlisted but also positions in new munitions factories making bombs. Munitions were the more dangerous work because of the daily exposure to toxic TNT and risk of explosions.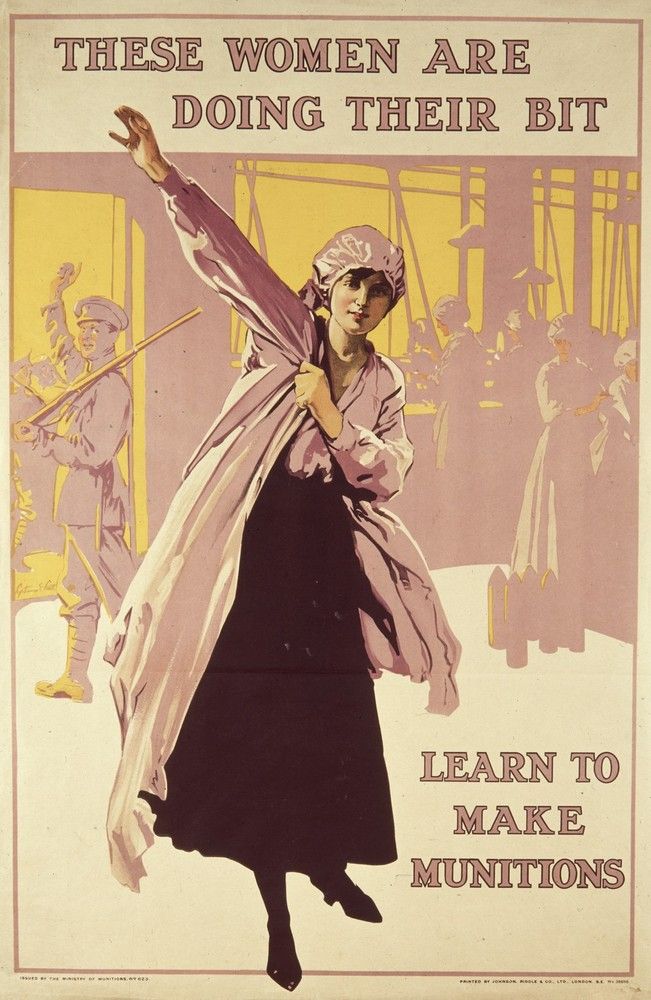 After long exposure to TNT, workers risked toxic jaundice. This dangerous substance seeped into their skin and would cause headaches, digestive troubles, and more. The explosive would turn the workers' hair and skin yellow, which is how munitions workers gained the nickname 'canaries'.
Information from: Women in England 1760-1914: A Social History by Susie Steinbach (2004) and History Learning Site.
🌸 Read this blog post about women and trauma: World War One's Forgotten Female Shell Shock Victims by Hannah Groch-Begley, research fellow at Media Matters for America
🌸 This excerpt is from Testament of Youth by Vera Brittain who was a volunteer nurse during the War
"The picture came back to me of myself standing alone in a newly created circle of hell during the 'emergency' of March 22nd 1918, gazing half hypnotized at the dishevelled beds, the stretchers on the floor, the scattered boots and piles of muddy clothing, the brown blankets turned back from smashed limbs bound to splints by filthy bloodstained bandages. Beneath each stinking wad of sodden wool and gauze an obscene horror waited for me and all the equipment that I had for attacking it in this ex-medical ward was one pair of forceps standing in a potted meat glass half full of methylated spirit."
Mental health then and now:

Get creative:

🌸 Create a mind map of ideas around mental health and the war.

🌸Create a second mind map showing how young women's mental health is affected today.
What are the similarities and differences between the two?

🌸 Record your thoughts about this project – this could be a short paragraph for our project blog, a photograph, a drawing or a video or audio recording.
What are you looking forward to finding out? What have you learnt so far? What most surprised you?

Add your thoughts in the comments below. Or post your images on social media and tag us!
Twitter: @makegoodnews
Instagram: @wemakegoodtrouble
Facebook: /wemakegoodtrouble

Next: 3 Women's stories in WW1
Previous: 1 An introduction to Project Poppy