Dear Poppy…
1 An Introduction to Project Poppy
2 Mental health then and now
3 Women's stories in WW1
4. Letters home
Letters between home and the front were a vital way of keeping in touch during the First World War, and of keeping spirits up. Up to 12 million letters and one million parcels a week were sent via the post office in a huge operation.
Letter could also be the cause of great anxiety for women at home waiting for news of their loved ones.
Below is an extract of letters between Vera Britain and her fiancé Roland Leighton. Vera was was just 22 in 1915 and that summer started working as a voluntary nurse. Roland was only 20 and had signed up to fight at the front and had been sent to France.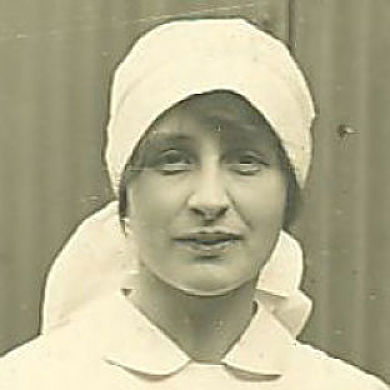 From Vera, Buxton, 18 July 1915

Whence this long silence, dear? I know of course that there is some good reason for it – I am almost afraid to know what. I am so sorry I have not written for so long. I have been extremely busy, but that is not the reason as I'm never too busy to write to you. But I have been waiting to get a letter before writing again – expecting to get one every day, every post in fact. I have such a dread of writing a letter & getting it officially returned unread by the person for whom it was intended – I think that is the most horrible way of learning about casualties that there is. But I cannot wait any longer now, as if you have not written just because you have too much to do, you must be wondering what has become of me & my correspondence… If there is anything wrong, you'll forgive this selfish anxiety, won't you? As a day or two ago I picked up the 'Times' & saw 'heavy fighting between Arras & Armentieres'…
Goodbye, dear. A Field Service postcard is all I ask.

From Roland, France, 18-21 July 1915

Your letters to me are like an uninterrupted conversation; and I remember afterwards in odd moments what you said, and wonder sometimes if you get tired talking to a phantom in the void who does not answer or show that he has understood.

This letter is bound to be scrappy, I'm afraid, as it has to be written at odd moments…
Extracts published in Letters from a Lost Generation, edited by Alan Bishop and Mark Bostridge, 1998

Get creative

🌸 Write a letter to our First World War friend, Poppy, from yourself in 2020. Think about how the pandemic has affected you and what you might ask Poppy about how the War is affecting her life, friendships, and her mental health. 

It could take the form of a postcard, letter or poem and could be illustrated. 

🌸 Take a look at the Imperial War Museum's collection of Letters to Loved Ones for inspiration.

🌸 Read an example letter, written to Poppy from 2020
🌸 Read Poppy's reply

Previous: 3 Women's stories in WW1