The new government White Paper on online harmswas published yesterday and aims to help protect young and vulnerable people from content that could cause harm online.
"The White Paper proposes establishing in law a new duty of care towards users, which will be overseen by an independent regulator. Companies will be held to account for tackling a comprehensive set of online harms, ranging from illegal activity and content to behaviours which are harmful but not necessarily illegal."
Make (Good) Trouble founder, Daisy Cresswell, and one of our teens, Grace (18), appeared on the Victoria Derbyshire show on BBC Two on Monday 8 April to talk about the issues raised by the White Paper. It's never easy to distil such a huge subject into sound bites, but Grace argued that whilst she's seen things online that have shocked her, relating to suicide and self harm, she said: "Because it's an open space to put out whatever you want, I think it's more about teaching young children and teens and adults how to cope with what you're seeing and teaching them how to talk about it rather than trying to get rid of it. I think it's important to address what we've already seen before we just try to ban everything."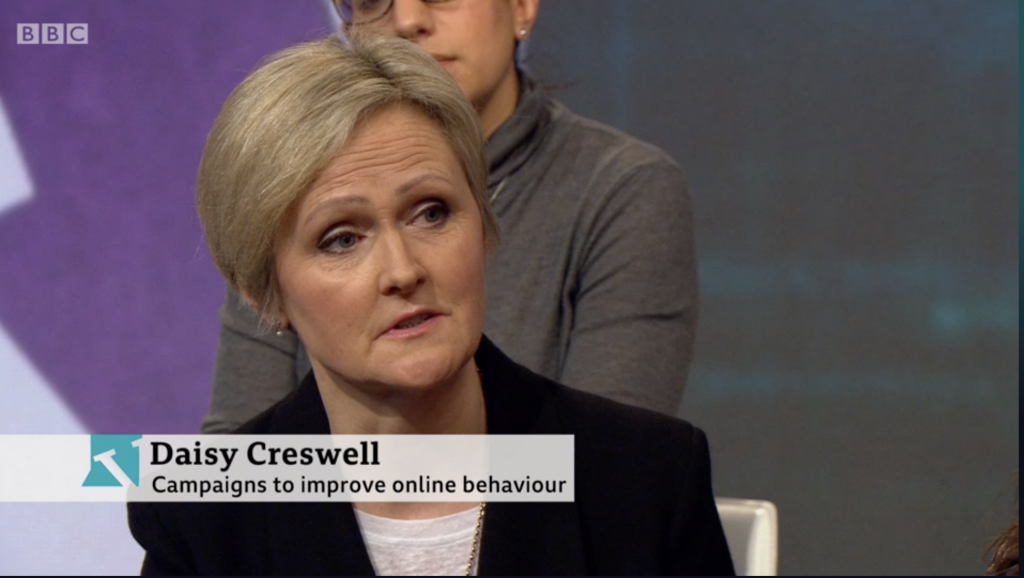 The next generation are the ones who will live, breathe and shape this technology and we should be listening and engaging with them about this subject. Many teens have found places to get help online with issues relating to mental health such as self-harm and depression. Often they find it difficult to talk to someone they know.
So whist we welcome the discussion that the White Paper has raised, we feel that it doesn't address the issues that are at the root of the mental health crisis in our youth.
It begs the question: why are our children turning to the internet to look for harmful content in the first place? Emma Oliver's son took his own life after searching online for ways to do so. She said, "The internet is probably their last resort [to find out] how to go on to kill themselves because of waiting lists. People forget, children do want to talk. They've been referred to services and the waiting list is that long that they see no other way out. I know a child that's been waiting for 6 months for counselling – 6 months is a long time – he goes on to tell me that he feels no one cares so he goes on the internet because he feels he can't take it any more… the government should try and look at the root cause of it as well…" (Victoria Derbyshire show, BBC Two)
When it comes to implementation of laws, who decides what content is harmful? How will smaller companies compete with the Facebooks and Googles of this world who can afford an army of moderators to police content and who could arguably afford fines for non-compliance? How long will it take to feasibly bring any of this on to the statute books?
So whilst we agree that there's a need to address worst excesses online content, we also need to help our young people right now. We need to have better provision for looking after their mental health and to build resilience within them – and we can only do that by working with and providing support and resources for teens, parents and schools.
Watch the debate on Victoria Derbyshire on iPlayer(available until 7 May 2019)